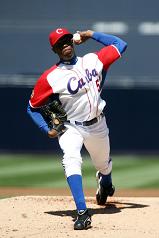 According to the Miami El Nuevo Herald, Cuban left-hander Aroldis Chapman has left Athletes Premier International (API) and agent Edwin Mejia in favor of Hendricks Sports Management.



Now, keep in mind that the article
is in Spanish, and with my loose translation, it doesn't indicate
whether Chapman broke any specific terms with API, but Mejia was in
line for a significant payday after helping the 21-year-old establish
residency in Andorra in order to guarantee his free agency. API posted articles
about Chapman on Twitter as recently as four days ago.



It's hard to speculate on exactly why he made the jump, however Chapman may feel more
comfortable about his chances to make the $40-60 million he reportedly
covets behind the more-established Hendricks brothers. They have represented some
of the biggest names in the baseball in the past, including Roger Clemens, Andy
Pettitte and Chris Carpenter.
Stay tuned for more information on this story as it becomes available.
Update: Jorge Arangure Jr. of ESPN.com confirms that Chapman has left API.