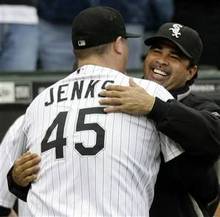 He might be. During an interview
with Joe Cowley of the Chicago Sun-Times, Bobby Jenks was critical of
the White Sox organization and manager Ozzie Guillen for comments about his weight and conditioning.



"Did I feel I was being picked on? No," Jenks said in a phone
interview. "But I felt I was the easy scapegoat because I had
struggled in the end with some nagging injuries. This organization,
just like most in this game, tell you, 'Come in, our door is open and
tell us what's on your mind.' And when you do, they turn it around on
you and make you feel bad. They're playing on your own words. They want
you to come in, be honest and then they turn it around."



Jenks, 28, posted a 3.71 ERA with six blown saves and a career-high nine home runs allowed over 53 1/3 innings in 2009 while suffering
through kidney stones and back problems. He finally went down for the
season with a pulled calf muscle on September 17.



Under team control through 2011,
Jenks should make somewhere in the neighborhood of $7 million to $8 million this
winter in arbitration, however his name has surfaced in trade rumors and even as a
possible non-tender candidate. General manager Ken Williams hasn't
indicated publicly whether Jenks is being shopped, but with a surplus
of closers available this winter, it behooves him to act quickly in
order to pursue other options on the market.