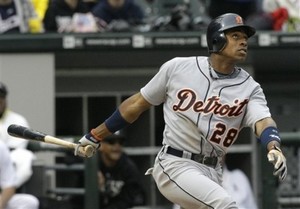 Phil Rogers of the Chicago Tribune writes that many in the Cubs' front office feel they would be foolish to give up top prospect Starlin Castro to acquire Curtis Granderson from the Tigers.



Castro, a 19-year-old shortstop has
drawn weighty comparisons to Hanley Ramirez and Derek Jeter with his
play in the Arizona Fall League, batting .376/.396/.475 with one home
run, 10 RBI, nine stolen bases and 18 runs scored in 26 games with the
Mesa Solar Sox. Castro, a native of the Dominican Republic, has a
.301/.354/.403 line over parts of three seasons in the minor leagues.
Though he has improved his stock immensely this fall, Kevin Goldstein
of Baseball Prospectus warns that Castro is becoming one of the more over-rated prospects in the game.



Rogers speculates that "there are a lot of other ways to do the deal"
for Granderson while wondering if new hitting coach Rudy Jaramillo could help his performance against left-handers. Granderson has
a .614 career OPS against southpaws compared to a .894 OPS against
righties. He batted .183/.245/.239 with 10 home runs, 34 RBI and a .696
OPS against left-handers in 2009.