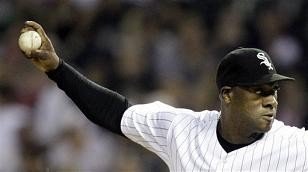 According to Patrick Newman of NPB Tracker, free agent Jose Contreras is considering a move to Japan.



Contreras' 16-year-old son is hoping
to take part in an exchange program with a Japanese high school.
According to a Sanspo.com report, Contreras reached out to the Hanshin
Tigers earlier this week. Though the Tigers have likely ruled him out,
according to a team source, other teams could have interest in the
veteran right-hander.



Contreras was 6-13 with a 4.92 ERA
and 1.47 WHIP in 28 games (23 starts) between the White Sox and Rockies
in 2009. He was impressive upon his arrival in Colorado, posting a 1.59
ERA and 17/8 K/BB ratio in 17 innings. Whatever his age (he's allegedly 37 years old, but we all know better), Contreras still has pretty strong peripherals and would likely find success in Japan.



Based on the location of his son's
school, Newman thinks Contreras would be a good fit with the SoftBank
Hawks and Hiroshima Carp.
By the way, if you are looking for the best blog to keep up with the goings-on in Japanese baseball, bookmark NPB Tracker.