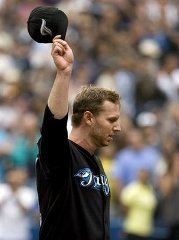 Tim Brown of Yahoo! Sports "tweets" that the Blue Jays and Dodgers have revisited talks on a potential Roy Halladay trade.
While Brown acknowledged that the two sides were talking, he later
cited a source close to the two teams saying that a deal is "highly
unlikely" as of now.



This comes on the heels of another report from Carrie Muskat of MLB.com, who writes that the Blue Jays initiated conversation with the Cubs in regards to Halladay.
Though Chicago doesn't look like a likely landing spot, the most interesting thing to take
from Muskat's piece is that Toronto "made it clear that they want
to move Halladay this offseason."
New general manager Alex Anthopoulos'
early aggressiveness speaks to this. He clearly has the gem of the offseason pitching market, but let's hope he has
learned from J.P. Ricciardi's missteps.



Halladay is under contract for $15.75 million next season, after which he becomes a free agent.