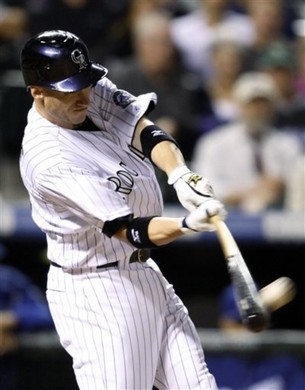 From the Denver Post's Troy Renck comes the news that the Rockies are looking to sign starting second baseman Clint Barmes to a two-year deal with an option for 2012 that would buy out his first year of free agency.
On the surface, it might not seem like a bad idea at all. Having received 500 at-bats for the first time in his career, Barmes delivered 23 homers and 76 RBI last season. He's also, without a doubt, one of the game's best defensive second baseman. Furthermore, he won't be particularly expensive. Barmes made $1.6 million in his first season of arbitration. He's set for a nice raise after putting up such fine power numbers, probably to $3.5 million or so. Another year as a starter would get him up to about $5 million, so the Rockies could potentially save themselves some money if they could sign him for about $7.5 million.
Or they could save themselves far more by trading him and turning second base over to Eric Young Jr.
Barmes' ample power production last season was a nice surprise, but it came with a .245 average and a dreadful .294 OBP. He had a 121/31 K/BB ratio in 550 at-bats. His career OBP is .299. He's also a poor basestealer, getting thrown out on 10 of his 22 attempts last season.
Barmes has also been a huge offensive liability outside of Coors Field throughout his career. A big flyball hitter, he's taken huge advantage of baseball's most spacious outfield to hit .294/.336/.479 at home in his career. On the road, though, he falls all of the way to .222/.262/.351. Last year, he came in at .207/.251/.380 outside of Coors Field.
To put that in perspective, Neifi Perez was a career .267/.297/.375 hitter.
Young is about as different from Barmes as a second baseman can be. He doesn't have any power, but he's turned into a legitimate top-of-the-order threat, which is something the Rockies clearly need. The second-generation major leaguer hit .299/.387/.430 with 58 steals in 72 attempts for Triple-A Colorado Springs last season.
That's not to say he's a sure thing. He was less successful in 57 major league at-bats, coming in at .246/.295/.316. Also, for all of his speed, he's a lesser defender than Barmes. He's made a ton of progress these last two years, but he still might fit best as a major league utilityman.
For that reason, I'd support the idea of the Rockies keeping Barmes around for another year, but it should be with the thought that Young could overtake him and push him into a reserve role at some point. There's no good reason to commit to Barmes for 2011 just yet. He's turning 31 in March, and it's entirely possible that 2008 and '09 will go down as his best years as a major leaguer.