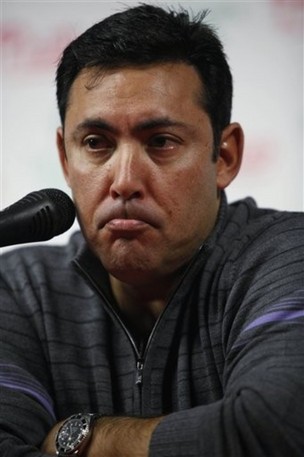 Talking to The News Journal's Scott Lauber, Phillies GM Ruben Amaro Jr. on Wednesday listed third base and bullpen help as his top priorities this winter, adding that he didn't expect his team's payroll to exceed $140 million by much if any margin.
That doesn't leave the Phillies with as much flexibility as anticipated. The Phillies already have $106.75 million committed to 12 players for 2009. Joe Blanton ($7 million), Shane Victorino ($5.5 million), Carlos Ruiz ($2.5 million), Chad Durbin ($2.5 million) and Ben Francisco ($1.5 million) figure to collect $19 million or so through arbitration, pushing the Phillies up to $125 million before anyone is acquired.
So, that leaves the Phillies about $15 million for six roster spots. On offense, they need a third baseman, a utilityman, a pinch-hitter if Matt Stairs doesn't return and a backup catcher. They also want another setup man to put in front of Brad Lidge and a pitcher for rotation depth.
That modest limit would make it awfully difficult for them to bring in a Chone Figgins or a quality starter. Mark DeRosa, apparently their top pick for third base, would eat up at least $6 million of that in the first year of a two- or three-year deal. Garrett Atkins could come a little cheaper. A setup man like Brandon Lyon or LaTroy Hawkins will likely cost $4 million-$5 million. Fernando Rodney and Mike Gonzalez could be even more expensive.
Barring a surprising move to trade for a cheap third baseman, the Phillies won't be going after the big names in free agency. They have some room to maneuver, but it's doubtful that they'll be too adventurous after back-to-back World Series appearances.