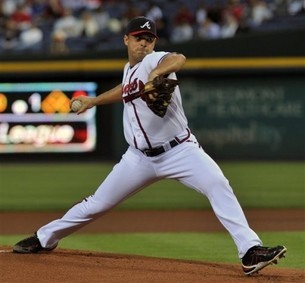 As indecisive as the voters were on who was the NL's best pitcher in 2009, there was an incredible consensus on the top three, with Tim Lincecum, Chris Carpenter and Adam Wainwright claiming 94 of the 96 available ballot spots.
Not surprisingly, the two voters who were against the grain weren't from the usual pool of newspaper writers. ESPN.com's Keith Law, a former Baseball Prospectus writer and Blue Jays assistant GM, placed Javier Vazquez second on his ballot, while Will Carroll, of Baseball Prospectus, opted to go with Dan Haren third.
While I'm typically on the stathead side of these matters, I thought the conventional wisdom was correct in this case: the voting should have come down to the big three. Haren and Vazquez both had excellent seasons, but the numbers weren't compelling enough to elevate them over the league's ERA leaders.
In particular, I take issue with Law's choice to place Vazquez between Lincecum and Wainwright on his ballot.
The conventional numbers clearly favor Wainwright:
Wainwright – 19-8, 2.63 ERA in 233 IP
Vazquez – 15-10, 2.87 ERA in 219 1/3 IP
Law says Vazquez should get some credit for pitching in the tougher division. However, Wainwright had the higher opponent OPS for the season, 733 to 731.
Law's main argument, though, heavily weighs in the FIP (Fielding Independent Pitching) stat to say Vazquez was the better pitcher. And there is a case to be made, as the Cardinals clearly had a superior defense to Atlanta. FIP has Lincecum at a league-best 2.34, Vazquez at 2.80 and Wainwright at 3.11.
But that's placing a lot of weight in a stat that doesn't translate into wins and losses. In theory, Vazquez was the better pitcher of the two. In real world results, Wainwright had an obvious edge.
The Cardinals and Braves had some remarkably similar numbers this year. The Cardinals finished the year with a 747 team OPS and a 3.66 team ERA. The Braves had a 744 OPS and a 3.57 ERA. Looking at those numbers, you'd suspect the team had remarkably similar win totals. However, the Cardinals finished 91-71 and the Braves 86-76.
Now get a load of this: the Cardinals were 68-60 when Wainwright didn't pitch. The Braves were 68-62 when Vazquez didn't pitch. So, the Cards were 23-11 in Wainwright's starts, while the Braves were 18-14 when Vazquez pitched. That's the real world for you.