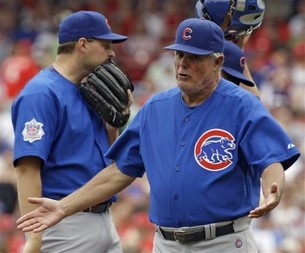 Aaron Heilman was traded for a third time in 12 months Wednesday, going from the Cubs to the Diamondbacks for prospects Scott Maine and Ryne White.
There's a good chance the Cubs would have non-tendered Heilman. The former Met did bounce back from an awful 2008, lowering his ERA from 5.21 to 4.11 last season, but he still wasn't close to the same kind of reliever he was in 2006 and 2007. One of the game's most reliable setup men, he combined to pitch a whopping 173 innings with a 3.33 ERA and 49 holds between those seasons. His strikeout rate has remained strong since, but he's been giving up more homers and walks and it's been hard to trust him late in close games as a result.
The Diamondbacks could let Heilman contend for a rotation spot, as he did with the Cubs last spring before being returned to the pen. Heilman would certainly prefer to start games, as he made clear in New York on numerous occasions. Heilman does have the advantage of being very good against left-handed hitters, thanks to his plus changeup. Still, as shaky as he's been working an inning at a time these last couple of years, there's little reason to think he's ready to emerge as a quality starter.
In Maine and White, the Diamondbacks received a couple of fringe prospects. Maine, a 2007 sixth-round pick, had a 2.90 ERA and a 61/22 K/BB ratio in 62 IP while being used strictly as a reliever in Double- and Triple-A last season. The former Miami Hurricane has a chance to be more than a lefty specialist out of the pen, but it's doubtful that he'll be a true setup man.
White, 23, was regarded as Arizona's top first base prospect a year ago, but he couldn't hit for power in the hitter friendly California League last season. He finished at .266/.371/.356 with six homers in 418 at-bats for Single-A Visalia. Particularly now that the Diamondbacks have young first baseman Brandon Allen, who was picked up from the White Sox for Tony Pena Jr., White was very expendable.
It's possible that the Diamondbacks could have gotten Heilman without surrendering any talent had they waited a month, but they didn't want to take the chance. He's set to make a little more than $2 million in his last year of arbitration, and at that price, it's quite possible another team would have traded for him.
My thought is that it's a pretty good move for Arizona. Heilman has proven extremely durable, and he offers more upside than the typical pitcher who goes for $2 million or so in free agency. As for the Cubs, they get one decent prospect for a pitcher who was no longer in their plans. It's doubtful that they could have done much better.