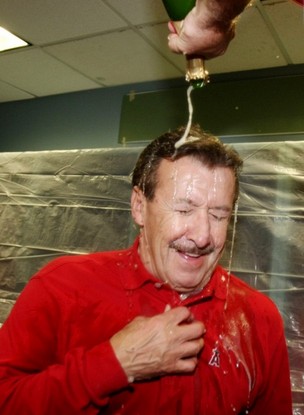 Angels owner Arte Moreno gave the Los Angeles Times a bunch of quotes that illustrate where his team stands entering free agency.
*Reaffirming GM Tony Reagins' quotes from a couple of days ago, Moreno said there will be no pursuit of free agent Matt Holliday:
"He is not going to be an Angel. We are not looking at Holliday at all."
Moreno also made it pretty clear that free agent Vladimir Guerrero wasn't in the team's plans, but that Jason Bay, who reportedly turned down an offer from the Red Sox, might be.
*Moreno claimed the team is currently looking at $101 million in commitments for 2010, leaving the Angels not far short of their $113 million output from last season.
Guerrero, John Lackey and Chone Figgins are all off the books, but the Angels are currently at $76 million for next year anyway and it seems they're currently accounting for $25 million in arbitration raises. Jered Weaver, Joe Saunders, Erick Aybar, Howie Kendrick and Jeff Mathis are all eligible for arbitration for the first time this winter, and Mike Napoli and Maicer Izturis are all due raises. $22 million-$24 million looks like a reasonable estimate for what they'll earn.
So, that's $100 million. Add in $4 million more for free agent Darren Oliver or a similar replacement. If the Angels want to stay in the $120 million range, then they're only going to be able to sign one player from the group of Bay, Lackey and Figgins.
The fact that the team is spending $22 million on Gary Matthews Jr., Scot Shields and the already forgotten Justin Speier doesn't help matters.
*Moreno did suggest that the Angels could save money by turning third base over to Brandon Wood:
"Eventually, Brandon is going to get his 600, 800, 1,000 at-bats. He's done everything he can in our minor league system. He's been a very patient guy. … I can't tell you he'll be guaranteed a job. He's one of the players that's earned an opportunity to try to win a job."
Given the Angels lack of payroll flexibility, it seems pretty likely that Wood will be in the lineup on Opening Day.