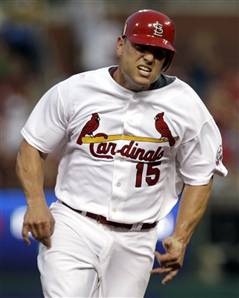 Some have speculated that Matt Holliday's
relationship with new hitting coach Mark McGwire might be one of the
selling points to keep him in St. Louis. Well, think again.



In an interview with Phil Rogers of the Chicago Tribune, agent Scott Boras attributed Holliday's early season struggles to swing changes McGwire had made during offseason coaching sessions.



"After five weeks [Holliday] went back to his old stance," Boras said.
"From that point on, he was the same player he always has been."



Coincidence or not, Holliday batted
just .226/.282/.383 with four home runs, 20 RBI and a .665 OPS over the
first 28 games of the season with Oakland. He hit .335/.419/.547 with 20 homers, 89
RBI and a .967 OPS from that day forward.



For all the concern about Holliday's
home/road splits, it's worth noting that he batted .377/.442/.667 with
nine home runs, 35 RBI and a 1.119 OPS at Busch Stadium, a place that
was one of the toughest stadiums for a right-handed hitter during the 2009 season, according to the newest Bill James Handbook.
Even tougher than Citi Field, a supposed "death valley for right-handed hitters."



Boras might be using McGwire's
adjustments as a bit of a scapegoat here, but it's clear that Holliday
can be a productive hitter just about anywhere.