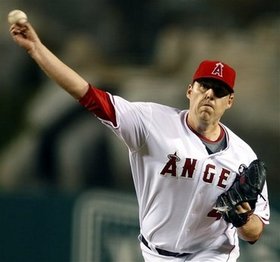 We're just one week away from when
the free agency floodgates open, meaning that we're in the calm before
the Hot Stove storm. Here's a few links to keep you busy on this
Saturday:



– David Lennon of Newsday writes that the Mets intend to be serious bidders for free agent starter John Lackey.
General manager Omar Minaya received a 'favorable first impression'
from Lackey's agent Steve Hilliard when the two spoke this week. Lennon
compares the potential pursuit of Lackey to that of Francisco Rodriguez
last December, but the Mets figure to have more competition this
offseason as he is the top starter available in the free agent market.



– FOXSports.com reports that the Nationals are drawing strong trade interest in outfielder Josh Willingham,
with the Braves among the interested parties. Willingham, 30, batted
.260/.367/.496 with 24 homers, 61 RBI and a career-high .863 OPS in
2009 after starting the season as the team's fifth outfielder.
Willingham is under team control through 2011 and earned $2.95 million
in 2009.



– No surprise, Joe Smith of the St. Petersburg Times says the New York Baseball Digest report suggesting that Carl Crawford wants out of Tampa Bay doesn't add up.



– According to FOXSports.com, the Brewers talked about sending J.J. Hardy to the Pirates, but weren't interested in Ryan Doumit or Matt Capps.
Instead, the Brewers tried to upgrade their starting pitching, asking
for either Paul Maholm or Zach Duke. After the Pirates refused, the
Brewers sent Hardy to the Twins for Carlos Gomez.



– And finally, for some levity, according to Brian McTaggart of MLB.com, Lance Berkman had a dream that he was traded to the Mets. Hey, it probably has a better chance of happening than many of the 'silly season' rumors we've heard this week.