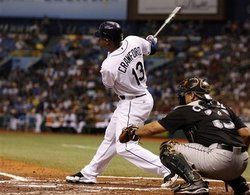 According to a report from Mike Silva's New York Baseball Digest, Carl Crawford is "livid" over management's decision to pick up his $10 million option for next season and now wants out of Tampa.



Says a source with the knowledge of the situation:



"He wants out of Tampa bad. He had a handshake
agreement with management that they would renegotiate the contract
instead of picking up the option and they went ahead and did it anyway.
He's pissed beyond belief."



Crawford, 28, signed a four-year,
$15.25 million extension with the Rays in 2005, with club options for two additional years. He is expected to be among the most coveted free agents
next winter.



While not impossible, it would be irresponsible to give this rumor too much validity. Silva deserves credit for getting the Wally Backman-Brooklyn Cyclones story right,
but he also found an MLB executive who said the following about "Moneyball" and
advanced metrics:



Among other sewage that has oozed to the surface is the erroneous
belief that statistics are the end-all in baseball today, a myth
perpetrated by the garbage called "MoneyBall." Moneyball geniuses have
flopped like DePodesta, Ricciardi, and even the infamous Billy Beane
whose exploits have all lacked a World Series trophy. It is all a tool
to be used by the uninitiated. I'll take a good scout and player
development people anytime; the statistics are very secondary. How do
you account a .220 hitter for being the hero of the World Series or a
guy who hits three home runs a year wins the pennant clincher with a
home run? Pitchers often get the best of hitters in the playoffs. There
are a million examples of things going against the logic of statistical
analysis.


Let's just say his "sources" might not know what they're talking about.