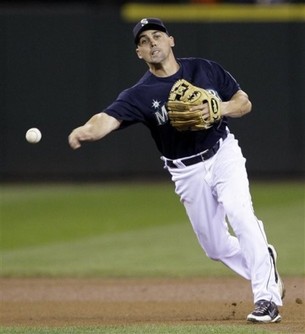 The marriage didn't start off as anyone wanted, but the Mariners announced on Friday that they've re-signed free agent Jack Wilson to a two-year deal through 2011. The Pittsburgh Post-Gazette's Dejan Kovacevic says the contract is worth $10 million.
Wilson was a bust in his first two months with the team after coming over from the Pirates along with Ian Snell for Jeff Clement, Ronny Cedeno and prospects. He played in just 31 games, hitting .224/.263/.299 in 107 at-bats, before missing the final three weeks with a heel injury.
He also struggled defensively, committing five errors. That's the same number he totaled in 80 starts during an injury-plagued 2008 season. He was involved in just 17 double plays or .55 per start. That's well down from his career rate of .75 per game started.
Wilson may be the game's steadiest shortstop when healthy. His high for errors in a season is 18, and he still has well above average range even at age 32. He's never won a Gold Glove, but he deserved a couple in the early part of the decade.
Offense is, of course, a major problem. Wilson has finished with OPSs below 700 seven times in nine seasons. He's a career .268/.310/.374 hitter, with 98 percent of his at-bats coming in the easier league. He's also battled durability issues of late. He averaged 148 games per year from 2002-07, but he slipped to 87 in 2008 and 106 last season.
With no future shortstop on the horizon, it's hard to blame the Mariners for re-signing Wilson. They still need to go get themselves a legitimate backup to protect themselves, though. As long as Wilson hits ninth, limiting the damage he can do to the offense, he's a perfectly adequate regular and a big upgrade over what the Mariners were getting from Yuniesky Betancourt.