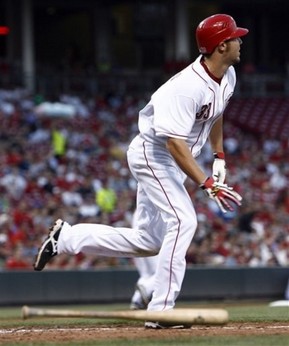 As mentioned last night, Micah Owings lost the tiebreaker that would have gained him super-two eligibility and increased his 2010 salary from $500,000 to likely around $1 million or so.
Had Owings been made arbitration eligible, it's possible that the Reds would have non-tendered him. The 27-year-old went 7-12 with a 5.34 ERA last season and was even worse with the Diamondbacks in 2008, finishing 6-9 with a 5.93 ERA. He was only successful during his rookie season in 2007, when he went 8-8 with a 4.30 ERA.
So, as a pitcher, Owings very likely isn't worth $1 million for 2010. It doesn't look like he has the arsenal to stick as a starter, and his command has regressed in a big way.
Of course, Owings isn't really known for his pitching these days. A star first baseman at Tulane, the 6-foot-5 Owings has hit .300/.331/.547 with eight homers in 170 major league at-bats. That line comes with a 56/8 K/BB ratio, but it's still incredible for someone who hasn't had more than 60 at-bats in a year since 2005.
There was already a legitimate case a year ago, but now there's a great argument for converting Owings into a position player. Maybe he could be a perfectly useful major league reliever, but his arsenal hardly stands out. And he could always go back to that if he fails as a position player. On the other hand, his time to make the switch to the outfield is running out. At age 27, he's going to have to improve his conditioning to pull it off. He's only going to lose athleticism as he ages.
As a full-time hitter, Owings would seem to be a definite threat to hit 25 homers. Whether he'd maintain a respectable OBP along the way is the question. If he gets regular at-bats, the holes in his approach are going to be exposed. But he'll also be able to concentrate on making adjustments. Plus, he'll probably show more patience at the plate. For what it's worth, he walked 42 times in 217 at-bats during his final year in college.
I think it's clear he has more upside as a batter than as a pitcher at this point. And he could still be of additional use as an occasional reliever in games already decided. Whether he fits in with the Reds in that role is still up in the air. The team currently has Jay Bruce, Drew Stubbs, Jonny Gomes, Chris Dickerson, Wladimir Balentien, Willy Taveras and Laynce Nix as outfield options. Taveras and Nix are both candidates to be released, but that still leaves five legitimate options, and Gomes, Balentien and Owings are remarkably similar offensive talents as right-handed power bats with OBP issues.
The Owings' offensive ceiling so closely resembles Gomes' 2009 season may, in fact, rule Owings the outfielder out as an option for the Reds. But it probably wouldn't cost much at all for another team to bring in Owings. It's time that he makes the switch, and there are several small-market clubs that would have something to gain by taking a chance on him.