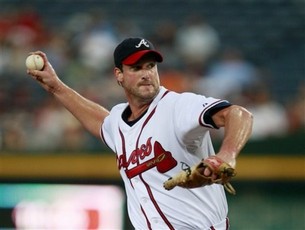 *With Tim Hudson re-signed to a bargain three-year deal, the Braves are likely to step up efforts to move Derek Lowe, Javier Vazquez or Kenshin Kawakami, according to the AJC's David O'Brien.
It's a given. Hudson, Jair Jurrjens and Tommy Hanson are all locks for the rotation next year, meaning that one of the expensive veterans will have to go. Vazquez, who has just one year and $11.5 million left on his deal, is the one of the three capable of bringing something substantial in return. Vazquez is a better option than every free agent starter besides John Lackey. He does have limited no-trade protection that prevents the Braves from sending him to the West Coast. The East and Central teams in both leagues are in play, though.
Lowe and Kawakami would likely have to be traded for other players with significant contracts. Lowe is owed $45 million for three seasons, while Kawakami will receive $13.33 million over the next two years. I made the case for a Lowe-for-Carlos Lee swap last month, but that's not going to happen. If the Nationals were interested in playing with the big boys, Lowe and cash for Josh Willingham would make some sense for both teams. I do believe Lowe is the most likely of the trio to go, even though there will be few teams capable of taking on his contract.
*O'Brien also notes in his blog that the Braves have interest in Florida's Dan Uggla as a left fielder.
The Braves clearly want to add some right-handed power, ideally without taking on a long-term commitment in the process. They currently have holes at first base and in the outfield corners, but by the time 2011 rolls around, Jason Heyward should already be installed as the everyday right fielder and Freddie Freeman could be ready to play first base. Jordan Schafer also can't be forgotten about. The Braves have the option of going back to him in center and shifting Nate McLouth to left field.
That's why the Braves are likely to stay away from the top free agents and try to get creative. Uggla, who has two years of arbitration eligibility left, would probably be a bit above average in left field and the Marlins might not get much in return because he's due at least $8 million next year. O'Brien mentions Kelly Johnson as a possibility to go the other way in a deal. Johnson is almost certainly done in Atlanta, but he could be a more-than-adequate replacement for Uggla in Florida. The problem there is cost. Johnson still offers a fair amount of upside, but the Marlins may not want to spend $3 million-$3.5 million next year on a player who is a pretty big question mark. Florida might prefer someone making the minimum, like right-handed swingman Kris Medlen.
*Both Rafael Soriano and Mike Gonzalez were recently declared Type A free agents, meaning any team signing one of the two would have to surrender a draft pick.
That is, of course, assuming that the Braves offer the two arbitration. There's been speculation that they wouldn't with Soriano, and if that's the case, GM Frank Wren deserves some blame.
In Jan. 2008, the Braves signed Soriano to a two-year, $9 million deal that bought out his first year of free agency. It was a perfectly reasonable agreement, but it was set up so that Soriano would make just $2.9 million in 2008 and then $6.1 million in 2009. If Soriano had made, say, $5 million last season, offering him arbitration now would be a safer proposition, since it'd be difficult for him to ask for much more than $7 million-$7.5 million. Because of the higher starting point, he can now go beyond that, and the Braves don't want to risk paying the injury-prone right-hander $8 million-$9 million in 2010.
Gonzalez, who made a much more reasonable $3.45 million last season, is likely to get an arbitration offer. So, the Braves will most likely get two extra draft picks if he leaves.
Expectations are that both relievers will depart, and the Braves will try to find a modestly priced replacement. Billy Wagner is one name that makes a lot of sense.