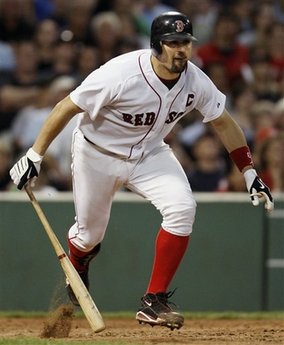 Jason Varitek will be back with the Red Sox for a 14th season in 2010 after exercising his $3 million player option on Wednesday.
Varitek knew he wouldn't do any better financially as a free agent, but he might have been able to find more playing time elsewhere. The Red Sox have already started that Victor Martinez will be used as a regular catcher next season.
Forgotten in all of Varitek's late-season struggles was that Boston's captain was one of the AL's top offensive catchers for four months. He hit .236/.345/.453 before Martinez's acquisition on July 31 resulted in a reduced role. From that point on, he was truly dreadful, coming in at .135/.233/.250 in August and .125/.185/.150 in 40 at-bats in September. The Red Sox never used him while being swept by the Angels in the ALDS.
The Red Sox figure to use Varitek primarily against lefties in 2010. While the plan is for Martinez to get most of his starts at catcher, it will still make sense to use him at DH or first base once per week or so. The switch-hitting Varitek has had an OPS over 800 against southpaws each of the last three years. DH David Ortiz, on the other hand, has declined from 852 in 2007 to 741 in 2008 and 716 in 2009.