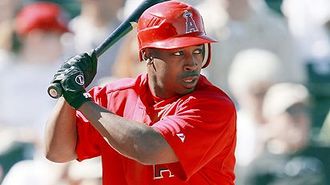 SI.com's Jon Heyman tweets that the Phillies are "seriously considering" free agent Chone Figgins.
The 31-year-old speedster doesn't figure to lack for options in free agency, particularly because he can play third base, center field and perhaps second. Figgins to the White Sox has been a popular rumor through the years, but GM Ken Williams has already shot down that possibility, saying the money won't be there.
The Cubs and Yankees, both of whom could pursue center fielders, have also been spoken of as fits for Figgins. The Giants could use the quality leadoff man, but they'd either have to use him in left field or push Pablo Sandoval to first to make room for him. The Red Sox, Mets and Mariners would seem to be less likely suitors.
Philadelphia may end up as the Angels' primary competition to keep the 2009 AL walks leader. Figgins is likely to seek a four-year deal worth somewhere around $12 million-$13 million per year. If the Phillies signed him, he should replace Jimmy Rollins as the team's leadoff hitter. Shane Victorino could keep batting second, while Rollins takes his mediocre OBP to the seventh spot in the order behind Raul Ibanez.