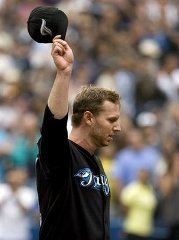 – New Blue Jays general manager Alex
Anthopoulos is reluctant to give up a pitcher of Roy Halladay's
caliber, but realizes that the two parties will likely part ways after
2010, increasing the likelihood of a trade this winter.



– Speaking of the Blue Jays, they are discussing a trade that would send first baseman Lyle Overbay to the Diamondbacks in exchange for catcher Chris Snyder. It seems like an odd trade for the cost-conscious Blue Jays. Some of you may remember that I proposed the Mets as a potential fit for Snyder back in July.
This was before the 28-year-old catcher underwent back surgery in
September. I see a club like the Mets or Red Sox — i.e., a franchise
with the ability to absorb a riskier contract — as a more likely
destination for Snyder, but I've been wrong before.



– Brad Lidge will undergo surgery to remove some loose bodies from his right elbow on Wednesday, while Raul Ibanez will have surgery to repair a sports hernia on Monday.



– Tony Massarotti of the Boston
Globe reports that the Red Sox, who are in need of a shortstop, were in
on J.J. Hardy, but Milwaukee's demands — Clay Buchholz or Daniel Bard
— were too high. Futhermore, Boston didn't have a center field prospect to match Carlos Gomez.



– And finally, what the heck happened to Sammy Sosa?