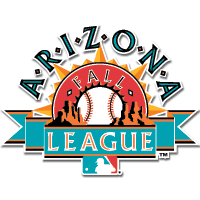 As Aaron noted on Friday, Stephen Strasburg was scratched from Saturday's Rising Stars Game in the Arizona Fall League due to a strained muscle in his neck.
Bummer. But for those of you who are jonesin' for some live
baseball, many of baseball's top prospects will still be on display
tonight on MLB Network at 8pm ET.



Tommy Mendoza (Angels) will replace
Strasburg on the roster for the East team and oppose 2009
first-round pick Mike Minor (Braves), who starts for the West.



Rising Stars East lineup:
CF Jose Tabata (Pirates), SS Starlin Castro (Cubs), 1B Brandon Snyder
(Orioles), LF Grant Desme (Athletics), DH Brandon Allen (Diamondbacks),
C
Buster Posey (Giants), RF Domonic Brown (Phillies), 3B Joshua Bell
(Orioles), 2B Jemile Weeks (Athletics), RHP Mendoza (Angels).



Rising Stars West
lineup:
CF Dustin Ackley (Mariners), RF Jordan Danks (White Sox), 3B Mike
Moustakas (Royals), LF Chris Heisey (Reds), 1B Yonder Alonso (Reds), DH
Darryl Jones (Cardinals), 2B Lance Zawadzki (Padres), C Jason Castro
(Astros), SS Carlos Triunfel (Mariners), LHP Minor (Braves).
Full rosters can be seen here, although Mendoza replaced Strasburg, Bell replaced Josh Vitters (Cubs) and Brandon Erbe (Orioles) will replaced by a player to be announced.


Just a few quick items of note out of the AFL:



– Starlin Castro has been a
sensation for the Mesa Solar Sox, leading the league in batting at .424
(28-for-66) with one home run, nine RBI, five stolen bases and 13 runs
scored in 18 games. It's dangerous to look too much into AFL numbers,
but the 19-year-old shortstop from the Dominican Republic is already drawing comparisons to Hanley Ramirez and Derek Jeter.
He batted .299/.342/.392 with three home runs, 49 RBI, 28 stolen bases
and 56 runs scored between High Class A Daytona and Double-A Tennessee
this season. Look for him to rise on prospects lists over the winter.



– Grant Desme has been a monster for
the Phoenix Desert Dogs, leading the league with 10 home runs in just
79 at-bats. How well is he swinging the bat? Chris Heisey (Reds),
Brandon Laird (Yankees), Corey Brown (Athletics) and Russ Mitchell
(Dodgers) are tied for second in the league with five home runs.



– While Strasburg has garnered much
of the attention since being drafted by the Nationals in June, their
other first-round pick Drew Storen (No. 10) might be ready to make the
jump to the big club next season. After posting an impressive 1.95 ERA,
0.74 WHIP and 49/8 K/BB ratio in 37 innings between three levels in the
Nationals system in 2009, the 22-year-old right-hander has an 0.93 ERA,
two saves and a 9/1 K/BB ratio 9 2/3 innings in the AFL. He's leaving
little doubt to the notion that he will be the Nationals' closer before
very long.