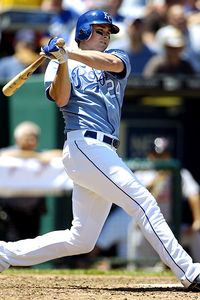 White Sox acquire 3B-OF Mark Teahen from the Royals for 2B Chris Getz and 3B Josh Fields
Neither player the White Sox surrendered for Teahen is likely to come back and bite them in a big way.
I just wrote this about Getz in the AL Rookie Review on Monday:
Getz always showed a knack for getting on base, but his lack of power held him back as a prospect. He slipped to the fourth round in the 2005 draft after totaling two homers in two years at Michigan, and he never slugged .400 in any of his first three stops in the minors. He finally busted out with 11 homers at Triple-A Charlotte in 2008, besting his previous high by eight, and the White Sox made him their starting second baseman to begin last year. Unfortunately, neither Getz's strong OBP nor his newfound power carried over to the majors. He was an outstanding basestealer, going 25-for-27, but he's not remarkably fast and he displayed only average range at second base. Odds are that Getz will hit for a higher average if he gets another chance, but he'll probably never be anything more than a fringe regular and his lack of versatility gives him little margin for error. That second-base upgrades tend to come pretty cheap will make Getz a risky pick next spring.
Fields is a subpar defensive third baseman with big contact issues. He's hit .229/.302/.416 in 664 major league at-bats.
Regardless, I'm still a big fan of this trade for the Royals. There was a very good case for non-tendering Teahen, given that he's due somewhere around $4.2 million-$4.6 million in arbitration. The 28-year-old hit .271/.325/.408 last season. He strikeout rate is way too high for someone with middling power, his walk rate has gone from mediocre to bad and he's not an asset defensively at any of his positions. Reports indicate that the White Sox plan to make him the replacement for Jermaine Dye in right field. I'd rather have Jody Gerut, and it's quite possible he won't cost more than $1 million this winter.
Kansas City gets two still somewhat interesting pieces, both of whom will make the minimum. Getz can't hit with Alberto Callaspo at second base, but he is the better defender of the two. It'll make sense to play him against plenty of right-handers, with Callaspo possibly DHing or playing third if Alex Gordon doesn't get it together.
Fields is more Gordon insurance at third base, but he'd probably make more sense in the outfield at this point. He has 25- or 30-homer power, and the change of scenery just might do him some good.
The 2009 Royals simply had no intriguing alternatives when it came time to plug holes, which is why Willie Bloomquist got 434 at-bats and Mitch Maier received 341. It's possible that neither Getz nor Fields will crack the starting lineup on Opening Day — it'd probably be for the best if neither did — but both should be on the roster and they have the potential to force their way into the Royals' plans.
As for the White Sox, it's less a matter of the talent surrendered that that they're going to use more than $4 million of their budget on a player who quite likely would have gone for less as a free agent and that they're going to play him regularly when he might be more of a 10th man. Teahen has hit like a corner outfielder once in five years as a major leaguer. There's little reason to believe it's about to happen for a second time. They have the option of using him at third base and moving Gordon Beckham to second, but I'm not sure that's preferable. Teahen is stronger defensively in right than he is at third base.
Angels re-sign OF Bobby Abreu to a two-year, $19 million contract with a vesting option for 2011
I assumed this would get done for right around $20 million. Abreu made more sense for the Angels than Vladimir Guerrero going forward, not that the team couldn't make room for both if it wanted to.
Abreu certainly isn't what he was. From 1998 through 2006, his lowest OPS was 877 and he was over 900 six times. In the three years since, he's come in at 814, 843 and 825.
Fortunately, that still makes him an above average corner outfielder, particularly since it's so OBP heavy. He also gets big points for durability, having played in 150 games in each of his 12 seasons as a regular. His defense was better last season after an ugly year for the Yankees in 2008, and he continues to contribute on the basepaths. He's clearly worth the $9 million per year, and the Angels were smart to bring him back.
Dodgers decline RHP Jon Garland's $10 million option for 2010
That the Diamondbacks are on the hook for Garland's $2.5 million buyout made it an easy call. Garland, who went 3-2 with a 2.72 ERA in six starts after being acquired in August, may have been worth $7.5 million on a one-year deal, but $10 million was excessive. He'll become a free agent and shop for a two- or three-year pact.
White Sox re-sign 1B-OF Mark Kotsay to a one-year, $1.5 million contract
A harmless signing. Kotsay is still a perfectly reasonable reserve with his ability to handle center field on a limited basis and his quality defense in the corners and at first base. If he's limited to 200 at-bats or so, he'll be an asset. He was well ahead of that pace during his time with the White Sox last season, but that was largely a result of the Jim Thome trade.