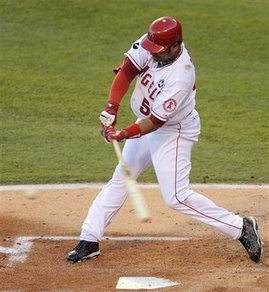 According to Fanhouse's Ed Price, the deal between the Angels and Bobby Abreu is worth $19 million over two years and includes a vesting option for 2011.
Abreu, who had to settle for a one-year, $5 million deal last winter, will make $9 million each of the next two seasons. The details of the vesting option aren't known yet, but it is also worth $9 million. If it fails to vest, then the Angels can buy out Abreu for $1 million.
The deal leaves the Angels with six remaining free agents, including two who are expected to command big multiyear deals in John Lackey and Chone Figgins. They could also lose Vladimir Guerrero, Darren Oliver, Kelvim Escobar and Robb Quinlan.