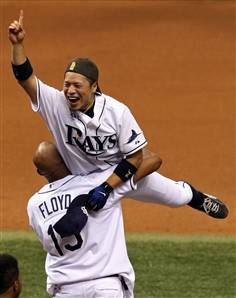 Akinori Iwamura, who went to the World Series with the Tampa Bay Rays last season, is putting the most optimistic spin possible on his recent trade to the Pittsburgh Pirates:
Iwamura, acquired to be the Pirates' starting second baseman, is hoping his new team can be a contender soon. Really.

"I know, of course, about Roberto Clemente and that it is a great organization," Iwamura said after being traded from Tampa Bay to Pittsburgh on Tuesday night.
Maybe Iwamura is just a really nice guy trying to say the right thing. Maybe he's naturally more optimistic than Richard Simmons.
Or maybe he simply needs a refresher course in Pirates history. The Pirates were, indeed a great franchise, with five championships and nine pennants to their credit. But the 30-year-old Iwamura was 13 the last time the Bucs made the playoffs, which was also the last time they even managed a winning record.
I'm just hoping Iwamura isn't too disappointed come spring time when the truth smacks him in the face like an A.J. Burnett shaving cream pie. But from what we've seen of him so far, maybe he'll just be happy to play in one of the prettiest stadiums in baseball.
Follow me on Twitter at @Bharks. For more baseball news, go to NBCSports.com.