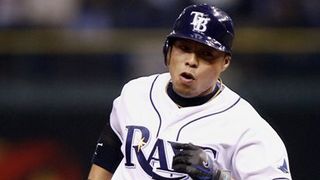 Rays second baseman Akinori Iwamura is headed to Pittsburgh, says the St. Petersburg Times and several other sources.
According to ESPN's Buster Olney, right-hander Jesse Chavez will be the return when the deal is announced, something that might not happen until after the World Series concludes. The Rays are expected to surrender a second player along with Iwamura.
It's a rather surprising destination, given that Iwamura is due $4.85 million next season and is only under control for 2010. The soon-to-be 31-year-old will become the Pirates' highest-paid player.
Iwamura is worth the cash. In three years since arriving in the U.S., he's hit .281/.354/.393 in 1349 at-bats. A knee injury limited him to 69 games in 2009, but he seemed to have his range back after returning in September. While Iwamura was initially a third baseman for Tampa Bay, he's proven to be well above average at second base. He should be an upgrade over what Freddy Sanchez gave them defensively and approximately his equal offensively.
Still, one wonders if this is really the right direction for the Pirates. Second base tends to be a very easy position to fill in the offseason. Orlando Hudson, easily the top dog at the position, had to settle for an incentive-laden one-year deal last winter. He was guaranteed $3.4 million, with the chance to earn up to $8 million. Felipe Lopez ended up with a one-year, $3.5 million contract. Juan Uribe could only get a minor league deal. Had Iwamura become a free agent, it's unlikely that he would have received a higher salary than the option called for. $8 million over two years seemed the most likely scenario.
Last year, the teams that tried to get a jump on the market usually ended up getting burned. The same could happen this winter.
With Iwamura locked in at second, the Pirates could now be looking at the following lineup:
CF Andrew McCutchen
2B Iwamura
LF Lastings Milledge
RF Garrett Jones
C Ryan Doumit
1B Jeff Clement/Steve Pearce
3B Andy LaRoche
SS Ronny Cedeno
They also have the option of picking up a right fielder and sticking Jones at first base.
The Rays, who needed to save money anyway, considered Iwamura expendable because of Ben Zobrist's presence. Zobrist figures to be the team's starting second baseman next year, though there is the chance he could end up in the outfield. Sean Rodriguez, who was picked up in the Scott Kazmir deal, will be the fallback at second.
Chavez will compete for a bullpen spot in spring training, and he should have a leg up on the competition. The former Rangers prospect had a 4.01 ERA and a 47/22 K/BB ratio in 67 1/3 innings as a 25-year-old rookie for the Pirates this year. He's home-prone, something that's going to be even more of an issue in the American League, and the odds are against him developing into a legitimate setup man. The Rays were just happy to get something in return for Iwamura and to be off the hook for having to pay the buyout on his option.