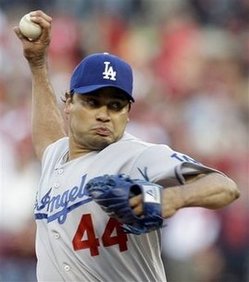 What has been a disconcerting offseason for the Los Angeles Dodgers just got a little bit weirder.
I'm talking Warren Zevon weird.
Things have gone downhill since L.A. was ousted quite easily by the Phillies in the NLCS. There is of course, the ongoing saga of the McCourt divorce, which includes a non-stop stream of he-said, she-said brief filings, and sordid accusations that would make the Gosselins blush.
It's been so much fun that there is now a new blog devoted to the proceedings called – I kid you not – Dodgerdivorce.com. (What's next? Jeterdates.com?)
But the menacing cloud swirling around Chavez Ravine got a little more toxic on Tuesday when the news came down that pitcher Vicente Padilla had been shot in the leg.
Details have been sketchy, but it appears Padilla was at a shooting range outside of Managua in his native Nicaragua when he accidentally shot himself.
At least Plaxico Burress was in a dark nightclub with a pistol in his pants when he accidentally wounded himself. You would think Padilla would be a little safer in a controlled environment. Then again, maybe they play things kind of fancy free at Nicaragua gun ranges.
I wouldn't make light of the incident if Padilla were badly hurt, but as he was hospitalized only 40 minutes before being released "without gravity," I figure it's fair game.
Besides, the Dodgers don't seem too concerned, as GM Ned Colletti said after the incident (through Tweeting L.A. Times writer Dylano Hernandez) that his team is still interested in re-signing Padilla.
I'd suggest L.A. hire a bodyguard to protect the wild-shooting pitcher from himself, but maybe the Dodgers don't want to go down that road again.
Follow me on Twitter at @bharks. For more baseball news, go to NBCSports.com.