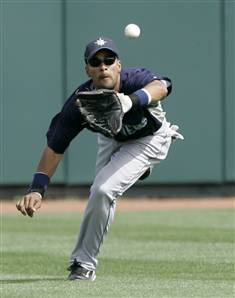 Anyone who saw the results of the "Hank Aaron Award" yesterday knows to take the results of any award voting with a grain of salt, particularly if fans are involved. (No offense to the masses, but when Derek Jeter beats out Joe Mauer for a hitting award, something is wrong.)
Some awards, though, are worth giving a closer look. Witness the Fielding Bible Awards, which released their winners on Monday.
What the honor lacks in name recognition, it more than makes up for in heavyweight brainpower, with a voting panel that includes a mix of sabermetric guys and sharp writers, from Bill James and John Dewan (author of The Fielding Bible) to Joe Posnanski, Peter Gammons and Rob Neyer.
It's not a popularity contest, so no, Jeter didn't win as the best defensive shortstop (although in fairness, he has been good this year).
You can see the list of winners here.
Perhaps the most notable thing about this year's group is the presence of three Seattle Mariners — shortstop Jack Wilson, center fielder Franklin Gutierrez (pictured) and right fielder Ichiro Suzuki. The only other team with more than one player was the Cardinals (first baseman Albert Pujols, catcher Yadier Molina).
In his first season as Seattle GM, Jack Zduriencik placed a heavy emphasis on improving the team's defense, acquiring Gutierrez from Cleveland in the trade that sent J.J. Putz to the Mets, and at midseason replacing the tubby and disinterested Yuniesky Betancourt with Wilson at shortstop.
A look at UZR ratings from 2009 show Gutierrez ranked first in all of baseball. Wilson was seventh and Ichiro was 17th. Third baseman Adrian Beltre was eighth overall in UZR, though the Nationals' Ryan Zimmerman (third) was even better, winning the Fielding Bible Award.
It all added up to the Mariners being the best defensive team in baseball in 2009 (compared to 20th in 2008), which no doubt played a big role in their improving from 61-101 in 2008 to 85-77 this season.
So will emphasis on defense be the next big trend in baseball? Or is it already happening? A run prevented is just as good as a run scored, right?
In a story that is at least tangentially related, free agent pitcher Jarrod Washburn says the Mariners are near the top of his list for 2010, which makes sense. After all, with that outfield defense behind him at Safeco Field, Washburn was putting together the finest season of his career before the trade to Detroit. Washburn is clearly a guy who can — and should — appreciate some fancy glovework.
Go here to follow me on Twitter. For more baseball news, go to NBCSports.com.