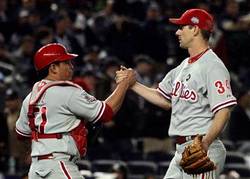 In the wake of an impressive showing by the Phillies in Game 1 of the World Series, let's take a stroll around the nation and see what's going on …
In New York, they were actually eating cheesesteaks. And no, that's not some kind of euphemism for what Cliff Lee did to the Yankees.
Speaking of Lee, they're worshipping him in Philadelphia with a video tribute, and rightly so.
How impressive was he? He did something that hadn't been done since the FIRST World Series game.
In Cleveland, they tried not to pay attention. And they're still mad about LeBron wearing that Yankee hat.
On the radio, Suzyn Waldman made some history as the first woman to broadcast a World Series game.
In Milwaukee, they were handing out awards to guys like Manny Parra (A for occasional effort).
In Atlanta, they're jacked up about the idea of keeping Tim Hudson out of free agency.
In Los Angeles, they're amassing lawyers (and body guards) along the border, preparing for war. And probably trying to decide if they're happy about another year of Manny.
And finally, in Boston, they're gloating, and wondering if Pedro Martinez can make it 2-0.
You can go here to follow me on Twitter. For more baseball news, go to NBCSports.com