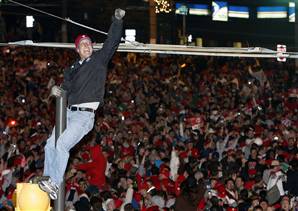 Apparently, Phillies fans are good climbers, and the local authorities just aren't going to take it anymore. (From the Inquirer, via The 700 Level):
City workers have greased poles along South Broad Street in an effort to deter revellers from climbing them during any wild celebrations that might follow a possible Phillies victory tonight.

Street lights, signs, bus shelters and even trees have been coated by a yellowish goo that bears a resemblance to petroleum jelly.
Click here for photographic evidence of Philly tax dollars at work (something Craig has already had some fun with). You'll see workers greasing a light pole, a pay phone (is that really necessary?) and – yes – a tree. (if a tree is greased in the forest … oh never mind).
Philadelphia police Lt. Frank Vanore said police will be out in force tonight in an effort to prevent all the zaniness that happened after last year's title-clinching win over the Rays, which included looting, throwing things, and yes, climbing on stuff.
I'm all for preventing looting and violence. But greasing trees? We can't do better than that?
If the police really wanted to make a statement, they'd break out the complete Kevin McCallister playbook: Coat the steps outside the stadium with ice. Rig flying irons and paint cans to swing down from street lights at head-level. And of course, tarantulas!
Follow me on Twitter, and get more baseball news on NBCSports.com.