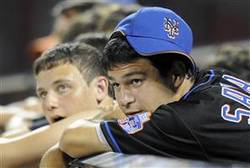 Time to get your Mets playoff tickets! Or not.
In an incident that is being played off as a technical error but sounds more like a cruel practical joke, ticket-swapping bazaar StubHub sent out an e-mail on Monday offering tickets for Mets playoff games. Talk about rubbing it in.
"Be there alongside your New York Mets as they chase baseball immortality," the e-mail said. "Go to StubHub, where you'll find a fantastic selection of tickets to every playoff game – so you experience the championship chase live and in person."
The company said that due to an "e-mail glitch," messages were sent out promoting several teams not involved in the postseason, including the Cubs, of course. (The Cubs had to be included in this didn't they?)
I'm thinking there are some Yankees fans over at StubHub having some fun with people, pouring salt in the wounds of their poor brethren in Queens. Watch out, they will soon be promoting Red Sox World Series tickets. Just wait.
But an e-mail glitch? If you believe that, I've got some nice tickets for you Royals fans. Front row and everything.