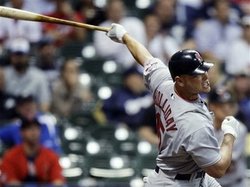 So Matt Holliday likes the Big Apple?
According to Newsday's Ken Davidoff, who cites "a person in the loop," the Cardinals' free agent slugger and playoff goat views the Yankees as his No. 1 free agent choice, with the Mets coming in at No. 2.
Davidoff is skeptical that either place makes sense.
As of now, I'd say the Yankees don't want to make another large purchase like that, in the wake of last winter's shopping spree – and if they win it all, then the pressure from the yakosphere (trademark Neil Best) to get Holliday should alleviate.
First of all, does the pressure from the "yakosphere" ever really slow down? And secondly, look at what the Yankees have coming off the books: Johnny Damon ($13 million), Hideki Matsui ($13 million), Xavier Nady ($6.5 million), Andy Pettitte ($5 million) and Chieng-Ming Wang ($5 million). That's $42.5 million, so the Yankees should definitely have some wiggle room.
Of course, they'll also have to figure out what to do with their rotation behind CC Sabathia, A.J. Burnett and, I assume, Joba Chamberlain, and account for raises. I'm not saying it's a perfect fit, but I wouldn't rule it out just yet.
But what about the Mets?
The Mets? Based on Jeff Wilpon's words from a few weeks ago, they'll consider anything and everything. Of course, many industry folks are very skeptical that the Mets will actually do so.

Holliday's primary reservation about joining the Mets? Yup, hitting at Citi Field. Maybe they can alter the dimensions? Jerry Manuel hinted near the end of the season that wasn't impossible.
So they might be rolling out the red carpet in Queens … maybe. I hope it includes one heckuva medical plan.