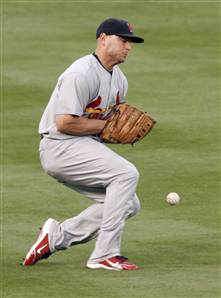 Congratulations Matt Holliday, you've just entered Steve Bartman territory. Of course, Bartman would have caught that ball.
For those of you who missed it – and judging by the empty seats at Dodger Stadium tonight, I'm guessing some of you did – Holliday helped the St. Louis Cardinals snatch defeat from the jaws of victory by dropping what would have been the game-ending fly ball in Game 2 of the NLDS on Thursday night.
Catch the ball and the Cardinals win 2-1, tying the best-of-5 series at one game apiece. Instead, James Loney's liner sought out Holliday's, umm, lower midsection, completely missing his glove along the way. One Ryan Franklin meltdown later and the Dodgers were sitting pretty with a 3-2 victory, a 2-0 series lead, and needing just one more victory to advance to the NLCS.
(Watch the Holliday play here. You will be amused, unless you're a Cardinals fan.)
If this had been the World Series, Holliday's gaffe would be on par with Bill Buckner's famous error in 1986.
As it is, he'll just get to watch the blunder over and over again on ESPN, TBS, FOX sports – heck, probably even Al Jazeera — and wonder if that single play will affect the dollars thrown his way in free agency. (Here's wondering if that single mistake will actually encourage the Mets to sign him. Seems like a good fit, no?)
It's a shame for Holliday, who is not only a great hitter (who hit a home run on Thursday, by the way), but is normally a quality defender. In fact, he has rated above average in range rating throughout his career and above average in UZR every year but 2006. He had made only one error in 63 games after being dealt to the Cardinals this season.
Manny Ramirez, he is not.
But while Holliday must now figure out how to deal with his newfound infamy, the more important thing from the Cardinals' point of view is to figure out how to beat the Dodgers — in a hurry.
Can they do it? Well the Cardinals certainly have the right attitude, banding together to back Holliday while placing the blame squarely on the shoulders of … Dodgers fans?
"I mean, that ball got lost in 50,000 white towels shaking in front of Matt's face," (Adam) Wainwright added. "It doesn't really seem fair that an opposing team should be able to allow their fans to shake white towels when there's a white baseball flying through the air. How about Dodger Blue towels?"
Wainwright's bravado, while admirable, probably will not be enough to save St. Louis. Teams that suffer through a gaffe like this tend not to recover. The Red Sox certainly didn't rebound from Buckner's error in 1986. The Cubs didn't bounce back from Bartman in 2003. And the Cardinals were unable to recover from Don Denkinger's blown call in 1985. (See a list of famous goats here)
And in the current series, St. Louis just went 0-2 with their two Cy Young candidates – Chris Carpenter and Wainwright — on the mound. The offense racked up 21 hits and six walks in those two games, yet scored just five runs, stranding 21 base-runners in the process. That's 1.2 runners stranded per inning.
The Dodgers have made it a point to avoid Albert Pujols, the likely NL MVP, who has only one single in the series, yet a .444 on base percentage on the strength of three walks. Would someone like to drive Pujols in once in awhile? The time to do so would be now, Cardinals.
St. Louis will send out Joel Piniero in Game 3 to face the Dodgers' Vicente Padilla. Piniero has had a great season (15-12, 3.49 ERA), but then again, so had Franklin, and we saw how far that got him. If things go well, it'll be the veteran playoff stud John Smoltz against Chad Billingsley in Game 4, then back to Carpenter in Game 5.
Maybe somewhere along the line, Matt Holliday will get a chance to redeem himself. Maybe he will make people forget about Thursday's blunder. But he's going to going to need a lot of help from his teammates, and it's going to have to take an epic comeback to do so.