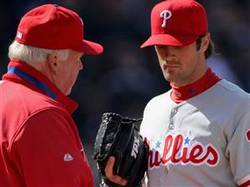 The good news for fans of the Colorado Rockies is that their team — on the strength of their big 2007-esque second-half surge — is once again baseball's feel-good story.
The bad news? The Phillies don't really care.
Since firing manager Clint Hurdle and replacing him with Jim Tracy, the Rockies have gone 74-41 (.643) to go from last place in the NL West to within three games of catching the division champion Los Angeles Dodgers.
The NL wild card entrant scored the second most runs in the National League, were second in home runs, second in on-base percentage, second in slugging and fifth in stolen bases.
Even the pitching was improved with solid seasons from Ubaldo Jimenez and Jason Marquis, plus the emergence of Jorge De La Rosa (16-9), who finished 16-9 after losing his first six starts.
But now the bad news: De La Rosa will be a non-factor, as his injured groin will keep him out at least until the NLCS, should the Rockies manage to advance that far.
Also, the Phillies are simply a terrible matchup for Colorado.
2009 NLDS Probables
Game 1: Ubaldo Jimenez vs. Cliff Lee
Game 2: Aaron Cook vs. Cole Hamels
Game 3: J.A. Happ or Joe Blanton or Pedro Martinez vs. Jason Hammel
Game 4: Whoever is left vs. Jason Marquis
Game 5: Jimenez vs. Lee
The Phillies appear to have the edge in starting pitching, though maybe not as big an edge as it appears at first glance. Lee started hot after joining Philly at midseason, but had mixed results down the stretch, including a six-inning, seven-run outing against the Brewers on Sept. 25, and a three-inning, six-run outing against the Astros on Sept. 4.
2008 playoff hero Hamels was spotty all season, a maddening occurrence that continued into September. And Happ, the Phillies' most consistent pitcher over the course of the season, faces — against all logic — an uncertain role.
On the Rockies' side of things, Jimenez has blossomed this season , and Cook and Hammel have been solid. But without De La Rosa, and with Marquis coming back to Earth after a dazzling first half, the edge has to go to the Phillies.
THE OFFENSES
As mentioned above, the Rockies have been a run-scoring machine this season despite the loss of Matt Holliday in an offseason trade. Troy Tulowitzki has been the star, reverting to 2007 form (better, actually) after a 2008 season hampered by injuries. His .297/.377/.552 line makes him the big threat in a solid Rockies lineup.
The problem is the Phillies' offense is even better. Put together a powerful lineup with stalwarts Chase Utley, Ryan Howard and Jayson Werth, throw in a career season from Raul Ibanez, and you have a force to be reckoned with.
The Phillies led the NL in doubles, home runs, slugging percentage, RBIs and runs scored. They were also second in stolen bases, with Utley, Werth, Jimmy Rollins and Shane Victorino each swiping at least 20 bags. Once again, edge goes to the Phillies.
Numbers
Phillies won season series 4-2
Phillies outscored Rockies 31-28 
Runs per game
Phillies: 5.06
Rockies: 4.96
Runs allowed per game
Phillies: 4.38
Rockies: 4.41
Overrated angle
The Phillies bullpen: Yes Brad Lidge has had an awful season. Yes Ryan Madson has had moments where he has struggled. But this is a short series with two off days (if it goes to a fifth game), and the Phillies have a wealth of starting pitching. Some combination of Joe Blanton, J.A. Happ and Pedro Martinez could be available in relief, taking pressure off the back end guys. And Lidge finished the season with three scoreless outings. I'm not saying he's anywhere near 2008 form, but that's gotta be a good sign right?
Underrated angle
The lefty-righty matchups: With De La Rosa out, the Rockies have no left-handed starters to face a Phillies lineup dominated by lefties (Ibanez, Howard, Utley) and switch hitters (Rollins, Victorino). On the other side of things, the Phillies are loaded with left-handed starters (Hamels, Happ, Lee) to face a Rockies lineup dominated by left-handed hitters. This will give Philly a huge edge.
Prediction:
Despite the matchup problems, the Rockies — led by Tulowitzki — should be able to score some runs on the Phillies. The problem is Colorado's pitchers should struggle against that dominant Phillies lineup. And when you consider the Rockies' home/road splits (51-30 in Denver/41-40 away from Denver) the Rockies really needed homefield advantage to make this happen.
Phillies in 4.