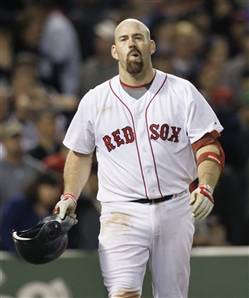 As bad as they've looked over the past five games, the Boston Red Sox are once again back in the playoffs, thanks to the Los Angeles Angels, who eliminated the Texas Rangers from contention on Tuesday night.
That's a record seventh wild card berth for Boston, as well as its sixth playoff appearance in the last seven seasons. But after two championships since 2004, simply making the postseason is no longer good enough for Red Sox fans.
So after five straight losses – including a weekend sweep at the hands of the New York Yankees – there has got to be plenty of handwringing going on over at Red Sox Nation headquarters. The good feelings of a hot September start have faded during a 5-8 run that could have been even worse if not for a three-game sweep of the pathetic Orioles.
In light of the current losing streak, is there reason for worry in Boston? Is the recent swoon a sign of terrible things to come?
Not necessarily.
According to some research by blogger Lisa Swan at The Faster Times, a hot run in September has little bearing on what happens in October. Also, a fade at the end of the regular season does not spell doom in the postseason.
Ever since three Wild Card teams in a row – the 2002 Angels, the 2003 Marlins, and the 2004 Red Sox – won the World Series after sizzling Septembers, people have thought that ending the season on a hot streak is the key to postseason success. Only thing is, it's not often the case.

True, going on a run down the stretch – like the 2007 Rockies did, when they went 21-8 over the last month of the regular season – will frequently catapult a team into the playoffs. But it doesn't necessarily increase the likelihood of postseason success.
Swan looked at the results of all 72 playoff teams from 2000-08, and found that of the 10 teams that won more than 70 percent of their regular season games in September and October, only the 2007 Rockies made it was far as the World Series, and they were swept by the Red Sox. Only four of the 10 even made it past the first round.
On the other hand, during the same stretch there were six playoff teams that finished with a losing record down the stretch. Four of those teams made it the World Series, and the 2006 Cardinals and 2000 Yankees took home the big trophy.
After Tuesday night's loss, the Red Sox are 15-12 in September, a perfectly fine .555 winning percentage. Sure, there are concerns, primarily on the pitching side of things. Josh Beckett's back might be ailing him, Jon Lester is recovering from taking a liner off his knee, Clay Buchholz and Michael Bowden don't appear to be ready for prime time, and Dice-K is – well, who knows what you'll get from Dice-K.
But now is not the time to be worried, Red Sox fans, as a September swoon has little bearing on what happens in October. Just take a cue from your ever-calm manager:
"We don't really look at it like that," Francona said. "Whatever happened nine days ago is not going to affect tomorrow. What we're thinking about is today."