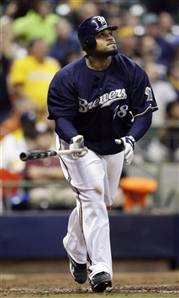 Milwaukee Brewers owner Mark Attanasio has told the Milwaukee Journal Sentinel that he and general manager Doug Melvin are exploring every avenue to improve their team for next season, even if that means trading its best hitter, Prince Fielder.
"I don't like thinking about the Milwaukee Brewers without Prince Fielder, I'll tell you that," Attanasio said. "It's a challenge, because on the other side, if you concentrate too much on one player. … It's not like basketball. If LeBron James or Michael Jordan is on your team, you can dominate. Prince could not have been more of a dominant player and we're scuffling to get to .500 with the challenges we've had with starting pitching. What do you do?
Attanasio states that Fielder's trade value will never be higher than it is right now, and if that were really the issue, he might be right. Fielder has put together arguably his best season, a .297/.406/.596 line with 43 homers and 137 RBIs. He's walked more than 100 times for the first time in his career, and doesn't turn 26 until May.
Has Fielder peaked? It seems unlikely for a guy that young, but concerns over his physique might change the formula a little bit, and Fielder's next contract will be a big one.
And that's really what it comes down to: Money.
Milwaukee was smart to lock up Ryan Braun, who won't even make as much as $8.5 million until the 2013 season. Fielder, though, resisted following a similar path, opting instead to keep one year of arbitration eligibility after his current two-year deal expires (after 2010) before heading into free agency.
On the other hand, Fielder's presence undoubtedly sells a lot of tickets (Milwaukee topped the 3-million mark in attendance for the second straight season) so you might want to keep him around a bit, patch some holes and hope for a rebound in 2010. Either way, it's not an easy decision.
"If you play that player too much you have to surround him with good enough players to win. On the other hand, players like Ryan Braun and Prince, they come along only every 10 years or so. Believe me, I think Doug thinks about that every day."
What would you do?