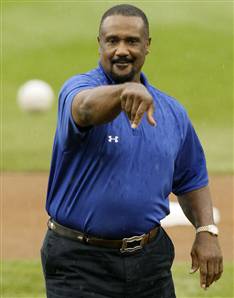 All you Zack Greinke fans out there are not going to be too happy with Jim Rice (from Ask 14, with a hat tip to Joe Posnanski):
Zack Greinke didn't really impress me last night. He pitched well and maybe I caught him on a bad night, but to me he didn't seem dominant. Greinke has may have the lowest ERA in the AL since Pedro Martinez in 2000, but he doesn't strike me as the dominant force that Pedro was during his statistical peak. Don't get me wrong, Greinke pitched very effectively but he was not the unhittable beast on the mound that Pedro or Clemens (or even Johan Santana) were during their reign of dominance.
Yes that's right, because Pedro Martinez and Roger Clemens (and even Johan Santana), always threw no-hitters. Every time they pitched. This makes perfect sense. Listen to Rice, because who better to identify greatness than a Hall of Famer?
Don't pay any attention to the numbers. Don't listen to anyone who has seen Greinke pitch more than once this season. Just remember, if a guy is merely good on the night you happen to watch him, then he can't be that great.
I once saw Nolan Ryan pitch a one-hitter in person. But I was also watching the night his career ended. He failed to get an out, and his final pitch was jacked for a grand slam by some dude named Dann (two ns!) Howitt. How did Ryan ever make it to Cooperstown with an outing like that?
In fact, now that I look at the numbers, I see that Rice had a three-game hitless streak in 1978. With this evidence – and logic – in hand, maybe it's time to revisit the MVP voting for that season.