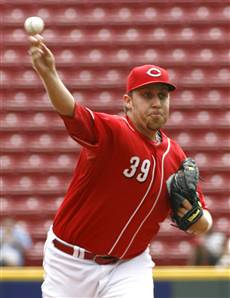 Aaron Harang, the Reds' veteran pitcher, got some nice publicity on Thursday when news broke that he had purchased a golf cart for the Reds clubhouse attendants.
It's a souped-up, cherry-red model, with six seats, an operational horn, and even a roof.
Harang has been on the DL since Aug. 23 after undergoing an emergency appendectomy. He had noticed that the clubhouse attendants had to share smaller golf carts with other team staff, and thought he would show his appreciation.
"I've been here so long," Harang said. "They've got to hunt for carts to go get stuff and take guys out to the bullpen. These guys take care of me. They'll do anything for me. It's a way to show appreciation to them for all they have to deal with from us."
The cynical side of me might point out that Harang is simply making it easier for the clubhouse boys to cart him around, and maybe that is partly true. But it's still a nice gesture for a group of people who work hard for very little thanks.
No matter how nice the gesture, though, Aaron Harang is clearly no match for Barry Larkin.
It's not the first time that Stowe has received a vehicle from a player. Shortstop Barry Larkin bought him a silver Mercedes in 2003, the year that Great American Ball Park opened, as a sign of his appreciation.
As Lilly Von Schtupp might say: "Oh, a wed golf caht. How odinawy."