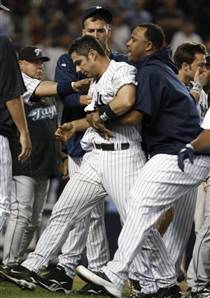 Take your base Jorge. Just take your base.
That's what you do when a pitcher throws a pitch behind you. A pitcher on a team that is not going to come anywhere near sniffing the playoffs.
Yes, Jesse Carlson threw that ball near your backside on purpose (somehow he missed). He was trying to hit you. He was trying to defend the honor of Edwin Encarnacion and Aaron Hill, who were nailed by pitches thrown by Yankee pitchers.
It doesn't matter if Encarnacion and Hill were hit on purpose or on accident. When a couple guys on one team get hit, a guy on your team is probably going to get hit (or at least thrown at) in response. That's how it works in baseball.
And after more than 1,500 games played at the big league level, I'm surprised you didn't know that. If you need a refresher course on how these things work, read this. I promise you it's gold.
Instead of taking your base after drawing that walk, you had words with Carlson. That's fine. But when you came around to score a meaningless run in this Toronto blowout, you decided to toss a wayward elbow Carlson's direction as he covered home. You're lucky no one was injured in the wild melee that ensued. A concussion for Jeter? A strained muscle for Teixeira? A bruised rib for Sabathia? It wouldn't take much.
I'm not terribly worried about the possible suspension you're facing. It would take an incredible run for the Red Sox to catch your Yankees now. But still, next time? Just take your base. Or at least listen to Cito Gaston:
"I don't know if that was too smart. They have a lot more to lose than we do."
Amen.
******
If you Twitter, and are in a fighting mood, follow me at @Bharks.