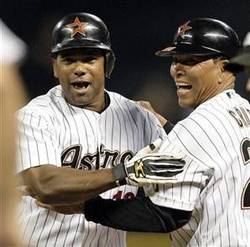 A couple of weeks ago, the New York Times brought to light a story about the 2001 Oakland A's, and how some of the players were concerned that their star shortstop Miguel Tejada was tipping pitches to friends on opposing teams.
Tejada denied the accusations, his teammates ended up backing him up, and nothing came of it.
Now, come some new barbs thrown Tejada's way, courtesy of Pittsburgh Pirates closer Matt Capps, who claims Tejada was working in concert with Houston Astros first base coach Jose Cruz to steal signs.
"Just compete," Capps told the Pittsburgh Post-Gazette after the game. "You don't need to do any of that stuff. Those two have a thing going out there. I'm set, and he's not even looking at me. That tells me all I need to know."
Tejada called the accusations "ridiculous" and "unbelievable," and backed up Cruz as well, saying "If he wants to disrespect me, that's fine. He shouldn't disrespect any coach." Cruz went so far as to tell the Houston Chronicle that he was offended:
"Never ever in 13 years that I've been here (coaching) and 30 years I've been in baseball," Cruz said. "Shoot. So … yeah, I'm offended. I don't know how he got the idea that I gave a sign to Tejada."
First of all, I think the Astros are a little too outraged over this. Sign-stealing is a part of baseball. Everyone does it. Just don't get caught. Now maybe Tejada and Cruz weren't in cahoots on that particular play, but spare us the outrage OK?
(In fact, our own Bert Blyleven breaks down the dos and don'ts of stealing signs right here.)
That being said, Capps needs to cut the crybaby act. I'm sure his Pirates teammates steal signs as well – or at least attempt to do it. If you think you caught the other team red-handed, plant your next pitch in the hitter's ribs. That will get your message across.