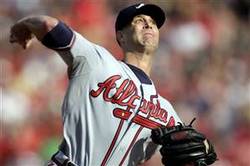 Tim Hudson is beating the drum for a contract extension in Atlanta, bringing up the phrase "hometown discount" in reference to possibly turning his $12 million option for 2010 into a multi-year deal instead (from MLB.com):
"I would be glad if they picked up the option," Hudson said. "But it's one of those things if they want to discuss not picking it up and maybe going a few years out at some kind of whatever hometown discount, that's something I'd obviously be willing to discuss with them."
Hudson has pitched well so far since returning from Tommy John surgery, going 1-0 with a 3.63 ERA in three starts.
But the Braves are not exactly hurting for starting pitching and would probably have to deal either Javier Vazquez or Kenshin Kawakami – who have both had nice seasons – in order to afford even a discounted Hudson.
But when you consider how well Hudson is liked within the Braves organization, you'd like to think something could get done.