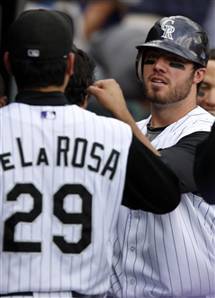 Are the playoff races all but over? From the Washington Post …
Baseball's playoff race died suddenly this weekend of natural causes. It was five months old. Survivors include the St. Louis Cardinals, New York Yankees, Philadelphia Phillies, Detroit Tigers, Los Angeles Angels and Los Angeles Dodgers.
Indeed this weekend was rough on some of the contenders.
(See standings here, and an analysis of the races here)
The Texas Rangers went 1-2 against the lowly Orioles to lose ground on the Angels and miss a chance to gain on the Red Sox. The Tampa Bay Rays, after Monday's disastrous double-header sweep against the Yankees — and six straight losses — are toast. The Twins dropped two of three to the Indians to fall 6 1/2 behind the Tigers.
In the NL, the Marlins and Braves don't appear capable of making a run at the Phillies. The Rockies and Giants are hanging close to the Dodgers, but one gets the feeling that L.A. can hold their divisional lessers at arm's length the rest of the way. And the Cubs? Well, at least they won't have to blame the curse on a playoff collapse.
Only the wild card races are tight, with the Rangers standings 2 1/2 behind the Red Sox, and the Giants two behind the Rockies. But even those two races aren't as up-for-grabs as they may seem.
Over at http://www.coolstandings.com, the math goes like this: The eight projected playoff teams (the six division leaders plus the two wild card leaders) have between a 70.5 percent chance (the Rockies) and a 99.9 percent chance (the AL East-leading Yankees) of going to the postseason, while among the pursuers, only the Giants (at 27.4 percent) have a better than one-in-four chance.
It doesn't bode well for an exciting September, but I guess you never know. Someone might have a run in them yet. Let's hope so.
******
If you Twitter, and think lacrosse can be interesting after all, feel free to follow me at @Bharks.