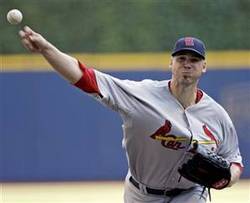 You've heard the names thrown out there regarding the NL Cy Young race.
Tim Lincecum, the reigning Cy winner and MLB strikeout leader who has a flair for hair. Adam Wainwright, who leads all of baseball with 17 wins. Heck, even Phillies rookie J.A. Happ has received some buzz.
But look out everyone, here comes Chris Carpenter.
The Cardinals veteran tossed a one-hitter on Monday, baffling the Milwaukee Brewers with a non-stop string of strikes. He struck out 10, allowed just a double to Jody Gerut, and threw just 99 pitches, 64 of them for strikes. Just two balls made it out of the infield.
"I'm trying to get strike one, strike two and strike three as fast as I can, or get you to put the ball in play and let my guys work behind you," he said.
That's 11 straight victories for Carpenter (16-3), who also won the NL Cy Young in 2005.
"It's the least of my concerns," said Carpenter, who won it in 2005 with a 21-5 record. "I've won one before. It's super awesome and fun and nice, but I'd much rather get to the playoffs and pitch in the World Series."
He just might be on his way.
*****
If you Twitter, and believe deodorant is optional, feel free to follow me at @Bharks.