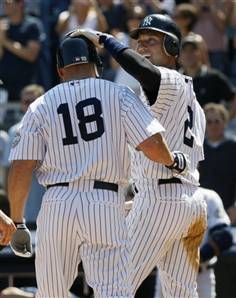 The New York Yankees pretty much have everything going for them this season – aside from some minor complaints about bullpen depth, but whatever.
One impressive piece of information in relation to the Yankees' title hopes is their balance and depth, as illustrated nicely by this handy-dandy wins-over-replacement pie chart (thanks UmpBump).
No matter where you look, someone can beat you. Andy Pettite, CC Sabathia, A.J. Burnett and Phil Hughes are all making significant contributions on the mound. And in the lineup, it's a minefield from top to bottom. Shut down Mark Teixeira, there's Alex Rodriguez, or Derek Jeter, or Robinson Cano to beat you.
And when it comes to power, the Yankees' offense is closing in on a historic achievement. With one more home run by Jorge Posada (Posada reached both marks tonight) and three more by Derek Jeter, and a handful of RBIs by each, the Yankees will have eight players with 20+ home runs and 70+ RBIs.
No team has had eight players reach those marks in the same season, and only the 1996 Orioles had more than six (Cal Ripken, Rafael Palmeiro, Bobby Bonilla, Robert Alomar, Brady Anderson, B.J. Surhoff and Chris Hoiles.)
Those Orioles didn't win a championship, of course. But then again, that Orioles team also had a horribly suspect pitching staff, with only one regular starter possessing an ERA below 5.00 (Mike Mussina, 19-11, 4.81).
I know the 1996 Orioles, and these Yankees are not the 1996 Orioles. They're far better equipped with arms to survive a dip in offensive production in a postseason series. Then again, can you really see A-Rod jinx coming to an end?
******
If you Twitter, and have a hard time keeping up the facade, feel free to follow me at @Bharks.