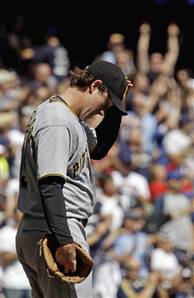 With three more losses, the Pittsburgh Pirates will be guaranteed their 17th consecutive losing season, something no other major American professional sports team has been inept enough to pull off.
Take a moment to consider the enormity of that feat. There are kids just about out of high school who have NEVER seen the Pirates finish even 81-81, let alone threaten to win a championship. The last time the Pirates had a winning season …
— Hannah Montana was about to enter the world.
— It was Iraq war, not wars.
— Jay Leno replaced Johnny Carson as host of the Tonight Show.
— Madonna turned 34, which is how old A-Rod is now.
Impressive, indeed.
So are the Pirates the worst U.S. sports franchise ever? It's tempting to say so, but 17 years is a long time, and our memories are short. The Pirates used to be proud, used to be talented.
They've got five championships and nine pennants on their resume, and of their 128 seasons, 69 of them have been winning campaigns.
So they've been terrible in recent years, and their current team isn't worthy of cleaning the bathrooms in that beautiful stadium. But worst ever? Afraid not. Not even the worst in baseball history.
Pick on the Astros, or the Mariners or the Rangers or the Brewers. But lay off the Pirates. At least for now.
Of course, there's still time.
******
If you Twitter, and can appreciate a happy Pirates story, follow me at @Bharks.