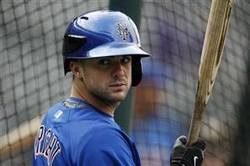 As if the Mets' season hasn't been bad enough, now even David Wright has become a laughingstock — through no fault of his own.
On Tuesday night, Wright made his return from the disabled list, where he had landed after taking a Matt Cain fastball to the noggin.
The incident was frightening, so precautions were taken to protect the cranium of New York's star third baseman in the form of a giant batting helmet.
Remember the old commercial from Saturday Night Live featuring the "Gary Busey helmet protector," which was a large foam covering made to be placed over the top of a motorcycle helmet? That's sort of what Wright looked like.
Another comparison – courtesy of Newday's David Lennon? The Great Gazoo.
According to Lennon, Mets, Rockies and Rockies fans all took pleasure in poking fun at Wright, looking as sharp as he was in his little league helmet. (By the way, it will be mandatory in the minor leagues next season)
Wright admitted that the helmet did need some adjustments. It had a tendency to slide down over his eyes while he was running. Wright also nearly killed Troy Tulowitzki when the giant helmet rocketed off his head at second base.

"There were times I couldn't get it to fit," Wright said. "I don't know – maybe I got an odd-shaped head."

Still, Wright plans to stick with the helmet, and there is no truth to the rumor that he will try a chinstrap when he returns to the lineup on Thursday.
For video goodness, click here.
******
If you Twitter, and only wear safe headgear while operating your computer, follow me at @Bharks.