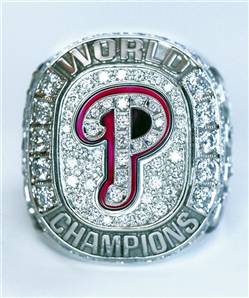 Have you seen this ring? It would be hard to miss.
Police are investigating the disappearance of a 2008 World Series championship ring, which a member of the Philadelphia Phillies organization has lost.
The ring, which is worth $15,000 and contains more than 100 diamonds, is not considered stolen at this point, just missing.
The owner is a member of the Phillies marketing department. He says he realized the 2008 world title ring was missing after he used a bathroom at Citizens Bank Park on Monday, when the Phillies were off.
The guess here is this guy broke a major commandment regarding rings: Never take them off and leave them on a bathroom sink. In fact, don't take it off in the bathroom anyway. Actually, if it's this expensive, never take it off … ever.
So let's turn it over to Phillies fans: Which would you rather lose, a $15,000 World Series ring, or your wedding ring? Which would you be in more trouble for losing?
******
If you Twitter, and you love your bling, feel free to follow me at @Bharks.