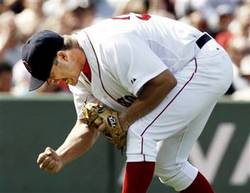 As the Boston Red Sox continue to slog their way toward a potential playoff berth, there are three constant worries: Pitching, pitching and pitching.
The rotation has been an adventure all season, from the failed experiments of John Smoltz and Brad Penny, the erratic behavior and performances of Daisuke Matsuzaka, and the quiet strength of Josh Beckett.
Sunday was a mixed bag, including good, bad and ugly. It all makes you wonder what Boston's rotation will look like come playoff time, provided they manage to hold off the Texas Rangers in the AL wild card race.
First the good:
Paul Byrd (pictured), a late-season pickup for Boston for the second straight season, dazzled in his first major league start since last September, not only baffling the Toronto Blue Jays, but outdueling Roy Halladay in the process, leading the Red Sox to a 7-0 victory.
Even better, Byrd claims to be a man of many talents:
"I'm just so excited to be back. I want a World Series ring," he said. "Hopefully I can help this team get there. I'll clean toilets if I have to, and I told them that."
Tim Wakefield, who had just returned last week after 5 ½ weeks on the disabled list, will have to have a cortisone shot on Monday after his 43-year-old back acted up once again.
Wakefield was an All-Star after anchoring the Red Sox's rotation in the first half. But now it appears that age is finally catching up to the veteran knuckleballer.
"We'll go from there and see if (the shot) takes and, if so, I'll be pitching in a week or so," Wakefield said Sunday morning before a game against Toronto.
Dice-K, out since June with a right shoulder strain, was horrendous in a minor league start on Sunday, allowing five runs in the first inning of a 5-3 loss. He pitched a perfect second inning, but his insane pitch count (49 in the first inning), meant his outing was cut short.
But hey, at least Clay Buchholz seems to be coming around. Or at least gaining confidence.
******
If you Twitter, and understand the difference between A-holes and B-holes, feel free to follow me at @Bharks.