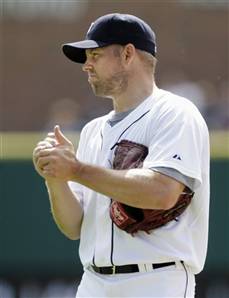 The Detroit Tigers must feel like the Mariners pulled some sort of elaborate switcheroo, sending them Jared Fogle, not Jarrod Washburn, in that deadline deal back in July.
The veteran left-hander, who used an improved Mariners outfield defense, a spacious park, and the heavy Seattle air to put together an amazing first half, has simply been a different player since heading to Detroit. Check out the difference:
In Seattle: 8-6, 2.64 ERA, 1.068 WHIP, 79 strikeouts and 33 walks in 133 innnings.
In Detroit: 1-2, 6.81 ERA, 1.405 WHIP, 18 strikeouts and 11 walks in 31.1 innings.
On Monday against Tampa Bay, Washburn allowed the first six batters to reach base in what became an 11-7 defeat. He left the mound to boos from Tigers fans after allowing eight runs in 5 2/3 innings.
"He certainly didn't have very good success today," Detroit manager Jim Leyland said.

"Some of it by his own doing and some of it was that's just the way it is sometimes.
"Sometimes it just isn't your day."
So what happened to Washburn?
Seattle's defense is exceptional, leading baseball in UZR (ultimate zone rating). At times, one got the sense Washburn was just throwing the ball in there and letting Ichiro and Franklin Gutierrez chase down everything. And his 21.4 percent line drive rate and 42.5 percent fly ball rate while with Seattle give that theory some credence.
But Detroit's defense is not bad by any means. In fact, it's quite good, rated No. 6 in all of baseball in UZR.
And when you consider that Washburn's BABIP (batting average on balls in play) is actually lower in Detroit (.241 vs. .248), it seems unlikely that the Tigers' defense is the main culprit.
So if it's not the defense, is Washburn simply regressing to the mean? After all, his career numbers don't (107-107, 4.05 ERA), hint at a rather average pitcher who has had a couple of exceptional seasons. Or is it, as Leyland says, "just the way it is sometimes."
Perhaps a little bit of both. But either way, Tigers fans must feel like they got hoodwinked.
******
If you Twitter, feel free to follow me at @Bharks.