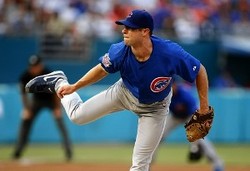 You thought that was the deadline? Nope, THIS is the deadline.
The July 31 no-waiver trade deadline came and went, and yet trades could still be made as long as the key parts involved could make it through waivers, witness the Angels' acquisition of Scott Kazmir.
But after Monday, even that door closes, at least as far as playoff rosters are concerned. For postseason contenders, it's now or never as far as improving your team for the home stretch.
So who might go where before the final (and we really mean it) deadline? Here are a couple possible items to watch.
Rich Harden: The scoop is that the Twins made a claim when the Cubs' flamethrower was put on waivers. The Twins haven't confirmed that, nor have they denied it. But the addition of Harden to Minnesota, which is just 4 1/2 games behind the Tigers, would add some interest to the AL Central race.
While the teams don't appear to be close to a deal, at least one source says the sides are talking.
Trevor Hoffman: The Giants reportedly put a claim in on the all-time saves leader, but is he really going anywhere? Aaron says San Francisco is just playing defense.
Brad Penny: The big righty was tossed aside by the Red Sox because he simply never panned out. So could he really end up in Oakland?
FIVE SERIES TO WATCH
Braves at Marlins, Aug. 31-Sept. 3: Atlanta and Florida both enter the week 3 1/2 games behind in the NL wild card race. And who knows, if one of these teams sweeps, maybe they can get back into the divisional race as well.
Giants at Phillies, Sept. 1-3: The Giants had a great weekend, sweeping the Rockies to move into a tie for the NL wild card lead. But now they up the ante with three games against Philly.
Red Sox at Rays, Sept. 1-3: The Rays are in danger of falling out of the wild card race, so this will be a big series. It should be a fun one, as well, with Josh Beckett and Matt Garza facing off on Wednesday.
Cubs at Mets, Sept. 4-6: The last couple of seasons this would've been a huge series with playoff implications. This time around, it's more about heaping helpings of frustration, angst and misery. Good times.
Red Sox at White Sox, Sept. 4-6: Ozzie Guillen's club is coming off a horrible week, going 1-7 in Boston and New York. If there is any hope for the pale hose, they better get to work this week against first the Twins, then one makeup game vs. the Cubs, before the Red Sox come to town.
ON THE TUBE
Wednesday, 7:08 p.m.: Red Sox at Rays (ESPN)
Wednesday, 10:10 p.m.: Diamondbacks at Dodgers (ESPN)
*Saturday, 4:10 p.m.: Rangers at Orioles (FOX)
*Saturday, 4:10 p.m.:  Red Sox at White Sox (FOX)
*Saturday, 4:10 p.m.:  Giants at Brewers (FOX)
Sunday, 2 p.m.: Red Sox at White Sox (TBS)
Sunday, 8:10 p.m.: Padres at Dodgers (ESPN)
*Check local listings
******
If you Twitter, you can find me there at @Bharks.