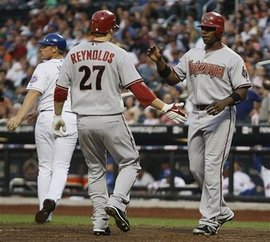 This is part of a series of articles examining what every team's roster would look like if given only the players it originally signed. I'm compiling the rosters, ranking them and presenting them in a countdown from Nos. 30 to 1.
No. 30 – Cincinnati
No. 29 – Kansas City
No. 28 – San Diego
No. 27 – Milwaukee
No. 26 – Baltimore
No. 25 – Chicago (AL)
No. 24 – Chicago (NL)
No. 23 – Pittsburgh
No. 22 – Detroit
No. 21 – Tampa Bay
No. 20 – New York (NL)
No. 19 – Houston
No. 18 – Oakland
No. 17 – St. Louis
No. 16 – Florida
No. 15 – San Francisco
No. 14 – Texas
No. 13 – Cleveland
No. 12 – Minnesota
The Diamondbacks took an odd road initially, making the playoffs in their second year of existence and winning a World Series just two years later, but even though they spent big at the start, they've developed talent consistently throughout. Despite having had less time to accumulate players besides any team other than the Rays, they rank 11th here.
Rotation
Brandon Webb
Max Scherzer
Jorge De La Rosa
Brad Penny
Brett Anderson
Bullpen
Jose Valverde
Vicente Padilla
Brian Bruney
Ross Ohlendorf
Jason Bulger
Tony Pena
Clay Zavada
That's seven legitimate starting pitchers between the five in the rotation, Padilla and Ohlendorf. I think Padilla and Ohlendorf would be the most useful out of the pen, though there's always been talk about trying Penny and Scherzer as closers. The Diamondbacks, though, don't need a closer with Valverde in the role, and they have other nice power arms in Bruney and Bulger.
De La Rosa's presence here will surprise some. The Diamondbacks signed him out of Mexico in 1998, only to sell him back to a Mexican team in 2000. He later signed with the Red Sox. That wasn't his only stint with Arizona, though. On Nov. 28, 2003, he was sent to the Diamondbacks in the Curt Schilling deal. Three days later, Arizona moved him to Milwaukee in the Richie Sexson trade.
Micah Owings would have made some teams as a pitcher and others as a bench player. The Diamondbacks, though, seemed to have better options all around, at least if everyone were healthy. He'd still be one of the first additions to the team.
Lineup
SS Stephen Drew
RF Justin Upton
3B Mark Reynolds
LF Carlos Quentin
1B Lyle Overbay
2B Dan Uggla
C Miguel Montero
CF Carlos Gonzalez
Bench
OF Scott Hairston
OF Jack Cust
1B/OF Conor Jackson
C Chris Snyder
INF Emilio Bonifacio
How's that for depth? Not cracking the roster were Rod Barajas, Chad Tracy and Gerardo Parra. As little need as there will be for pinch-hitters, there's a good argument for carrying Brian Barden as a second utilityman. Still, I just couldn't bring myself to drop Cust or Jackson.
Overbay, Montero and Gonzalez would all sit against lefties, with Jackson, Snyder and Hairston entering the lineup. The Diamondbacks should be plenty strong against both lefties and righties, and given that all of the key players are still fairly young, that's not going to change for years.
Summary
The Diamondbacks have one of the game's top pitching prospects in Jarrod Parker, but trades, particularly the one for Dan Haren, and budget concerns have taken a toll on the farm system recently. Fortunately, most of the team's key players still have youth working for them, and with all of the old deferred money payouts finally starting to come off the books, the Diamondbacks should be able to keep much of what they have now. The future doesn't look as promising as it did a couple of years ago, but if they catch some breaks, there's no reason they can't contend annually in the NL West.