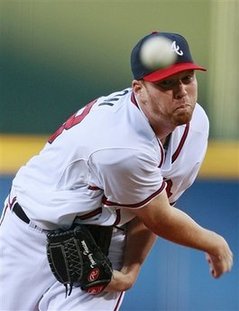 – The Braves got a much-needed win Thursday to avoid a home sweep at the hands of the Padres. Now they could really use two out of three games this weekend in Philadelphia. They'll try to start the series right with Tommy Hanson on the mound against Pedro Martinez. Hanson, who will be facing the Phillies for the first time, has won four straight starts to improve to 9-2 with a 3.12 ERA. Martinez is 2-0 with a 5.14 ERA in his three starts. He's struggled early in outings, but the Phillies have managed to support him with 21 runs in his two victories.
– CC Sabathia is on a roll anyway, but tonight he'll get to face a White Sox team he's gone 15-4 against in his career. If he can win a sixth straight start tonight, he'll be the first pitcher this year to reach 16 victories. Trying to halt his streak will be old rival Mark Buehrle. The trends aren't encouraging, though. Buehrle is 0-4 with a 6.21 ERA in six starts since his perfect game against the Rays, and he's 1-6 with a 6.84 ERA lifetime against the Yankees. When Sabathia and Buehrle locked horns on Aug. 2, Buehrle gave up seven runs and 12 hits over 4 1/3 innings in a loss.
Game of the Night
Colorado vs. San Francisco – The Rockies won three out of four against the Giants in Colorado last weekend, but they'll be playing in San Francisco this time and the Giants are an NL-best 41-21 at home. Game 1 would seem to be the premier matchup of the series, with Ubaldo Jimenez and Tim Lincecum facing off for the second time in six days. Jimenez prevailed last time after allowing two runs in eight innings. He's won five straight starts, and he hasn't lost in nine. Lincecum, on the other hand, has gone four straight starts without a victory, damaging his Cy Young case. The loss last weekend was his first in eight career starts against Colorado. He has a 1.79 ERA and a 75/9 K/BB ratio in 60 1/3 innings against Colorado lifetime.